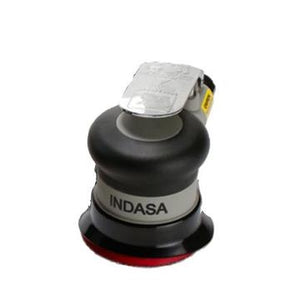 3" Non Vac 3/16 Stroke DA Sander
3" DA Sander, Non-Vacuum, 3/16" Orbit
A 3" dual action non-vacuum pneumatic air sander that is powerful, lightweight and ergonomic that operates at low sound levels and provide the ultimate high quality surface finish fast. 
Features a 3/16" (5mm) stroke/orbit suitable for most sanding applications. Includes 3" solid grip (Velcro) backup pad.
Constructed with durable composite materials, Indasa professional sanding tools are built to last. Max speed is 12,000 RPM and features a variable speed regulator for maximum control.
FEATURES AND BENEFITS

3/16" (5mm) stroke/orbit suitable for most sanding tasks

Lightweight and ergonomic design
Operates at low sound levels
Constructed with highly resistant and durable composite materials, built to last
Variable speed regulator for maximum control

Includes

 3

" solid grip (Velcro) backup pad, 3200-1/4
PRODUCT SPECIFICATIONS 
Orbit" 3/16" (5mm )
Max speed: 12,000 RPM
Weight: 1.3 lb (0.6kg)
Height: 3.1" (78.7mm)
Length: 4.9" (186.2mm)
Noise level 80dB
Vibration level: 2.0 m/s2
Recommended Air Pressure: 6.2 bar (90 psig)
Recommended Air Line Size 3/8" (10mm)
Recommended Max Hose Length: 25' (8M)
I

ncludes: 3" (77mm) grip/hook low profile backup pad (

1/4" x 24 thread, male), pad wrench