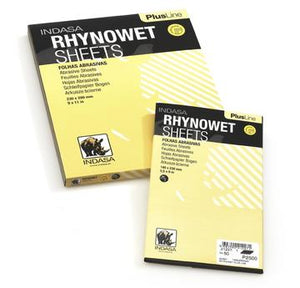 Rhynowet Sanding Sheets
Rhynowet Sanding Sheets
Sold 50 sheets per sleeve. Size 9" x 11" or 5 1/2" x 9"
Cutting efficiency and a quality finish from a waterproof sandpaper Indasa's Rhynowet lightweight material has an extensive grit range from 40 grit to 2500 grit for micro finish applications. It has durable latex backing with optimum surface preparation creating uniformity of scratch pattern. Indasa's high performance silicon carbide mineral grain ensuring the smoothest surface finish.

FEATURES & BENEFITS
High flexibility and therefore adaptable to curves and contoured surfaces
Uniformity of scratch pattern causes optimum substrate preparation
Anti-slip and easy to use
Use with water delivers a smooth finish sanding
SUBSTRATE SUGGESTIONS
List of substrates on which this product can be used.
Old Paint
Clear Coats
Solid Surface
Stone & Concrete
Primers
Fibre Glass
Wood Coatings
Top Coats
Gel Coats
Walls & Dry Walls
APPLICATION SUGGESTIONS
Heavy Duty Sanding
Sanding for Blending
Snading/Preparation
Micro-finishing/Rectifying
Fine Sanding